Categories:
Tom and I were happy to announce the first 57N Stupid Shit No One Needs Hackathon last week. I maintain he forced me to send the email, but I kind of enjoyed adding my stuff to it.
It turned out to be a really cool weekend of creating for the sake of creating, which I've not done for aaaaaaages.
I wanted to make a BBS door game to tie into my mysterious BBS project, so I made FuelSim - the dynamic, exciting game which places you into the mysterious, unexplored world of an Andorran fuel station.
What is Captain Rondo's past? Why is a retired pirate running a fuel station in Andorra? Will we ever find out? (Ans: sells biscuits, idk, no)
FuelSim was written in python, with curses providing the excellent user interface: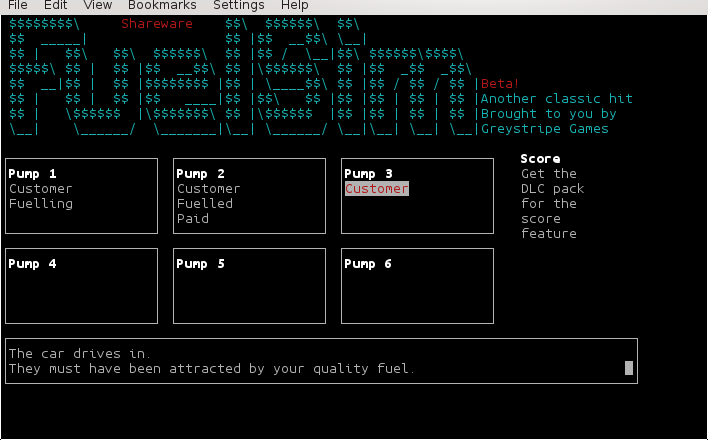 The code is BSD 3 clause and available at gitlab (Never look at the code, it's terrible) (No, really - it's awful. I'm not a programmer, remember?). Play it, have a laugh, forget it existed.
The game's logic is pretty simple. Roll a dice, if the value is greater than a preset threshold, the "customer" "comes in" to the first available "pump" and over the next 3 turns goes through a series of actions which require user input in the form of "push butan to advance".
Gameplay isn't compelling, this I will admit.
I hit a couple of snags along the way, which I'll document as I'd like to understand them later.
First off: passing arguments to functions. I wanted to pass the turn counter around the program, but after getting a couple deep the integer lost its type. It kept the value, just not the type. In frustration, I globalled some lists and the turn counter to make coding easier so I could have a working demo.
Second: Catching keypresses properly. I struggled to implement a "hit q for quit" which is pretty embarrassing. The only way to exit is ctrl-c, and that isn't pretty.
No BBS provides a terminal that supports curses. It's never going to be a door game in the current format :'(
I can't remember anything else for the moment, but I'm sure I'll come up with some other stuff.
Easy issues to fix are
The curses default screen not being refreshed, only the pump and control text windows. This means if the user changes terminal size, the game no longer looks sensible. I discovered and worked out the solution at demotime, which I think everyone enjoyed watching.
The game's existence. rm -rf / is my recommended solution once you've played it.
The biting commentary on the current state of
If I can work out my niggling issues, I might expand it or I might not. I'm tempted to rewrite the core game code and actually turn it into a BBS door with a leaderboard - Synchronet should be able to execute the python, but it wasn't setting $TERM to something curses liked. ANSI should do it nicely!
The other projects were great:
neiljp's Internet of Dings
[tj]'s string 'n' cup telegraph system
Ed's real-world facebook-style thumb-upper.
Doc's Bitter - taking positive tweets and making them negative
Let's do it again next year.
Tags: Hobbies Hacking Programming Hackerspace